Beautiful nature, breathtaking views, staying out in the fresh air. Mountain hiking is one of the most popular leisure activities. Backpack packed, clothes ready, but what about shoes? We will advise you! It doesn't matter if you're going for an hour-long walk or a one-day hike. In case of mountain walking, it's especially about endurance on uneven surfaces. That's why your best partner will be
TRAIL SHOES FOR LONGER DISTANCES
Here are a few reasons why:
Grip - Mountain terrain is varied and sometimes very unpredictable, so you need a shoe with a pattern on the sole to support your stability and reduce the risk of falling. Trail shoes can also handle snow and ice, so traction devices or shoes with metal spikes aren't always necessary for winter hikes in the Czech mountains. (please localize last sentence according to condition in your country)
Lightweight - The biggest advantage of trail shoes over heavy hiking boots is their light weight. You don't want to carry a load on your feet in addition to the backpack on your back!
Cushioning and comfort - Shock-absorbing foams are an essential factor for comfort even over long distances. Your feet and especially your joints, ligaments, and tendons will appreciate it.
Durable and breathable at the same time - The solid construction of the shoe prevents abrasions and the breathable materials of the upper ensure optimal air circulation.
Top4Running TIP: Unless there's currently a cloudburst outside, don't let the weather deprive you of a mountain adventure! For wet, muddy, or snowy surfaces, wear trail shoes with a GORE-TEX membrane to ensure waterproofing without steaming the foot.
Everybody prefers different types of shoes and some people love heavy hiking boots. But get inspired, try trail shoes, and enjoy a light step even at an altitude. We at Top4Running recommend these 5 brands and models!
1) Altra Lone Peak
Altra models are known for their zero drop - that is, zero difference between heel and toe. It allows the foot to stride naturally. The durable MaxTrac™ outsole with angled TrailClaw™ lugs will keep you grounded on mountain terrain and the cushy materials inside give you plenty of comfort. This type of shoe takes some getting used to, but once you've worn the Altra, you won't want it any other way!
Other Altra models suitable for mountain hikes: Altra Olympus (high cushioning), Altra Superior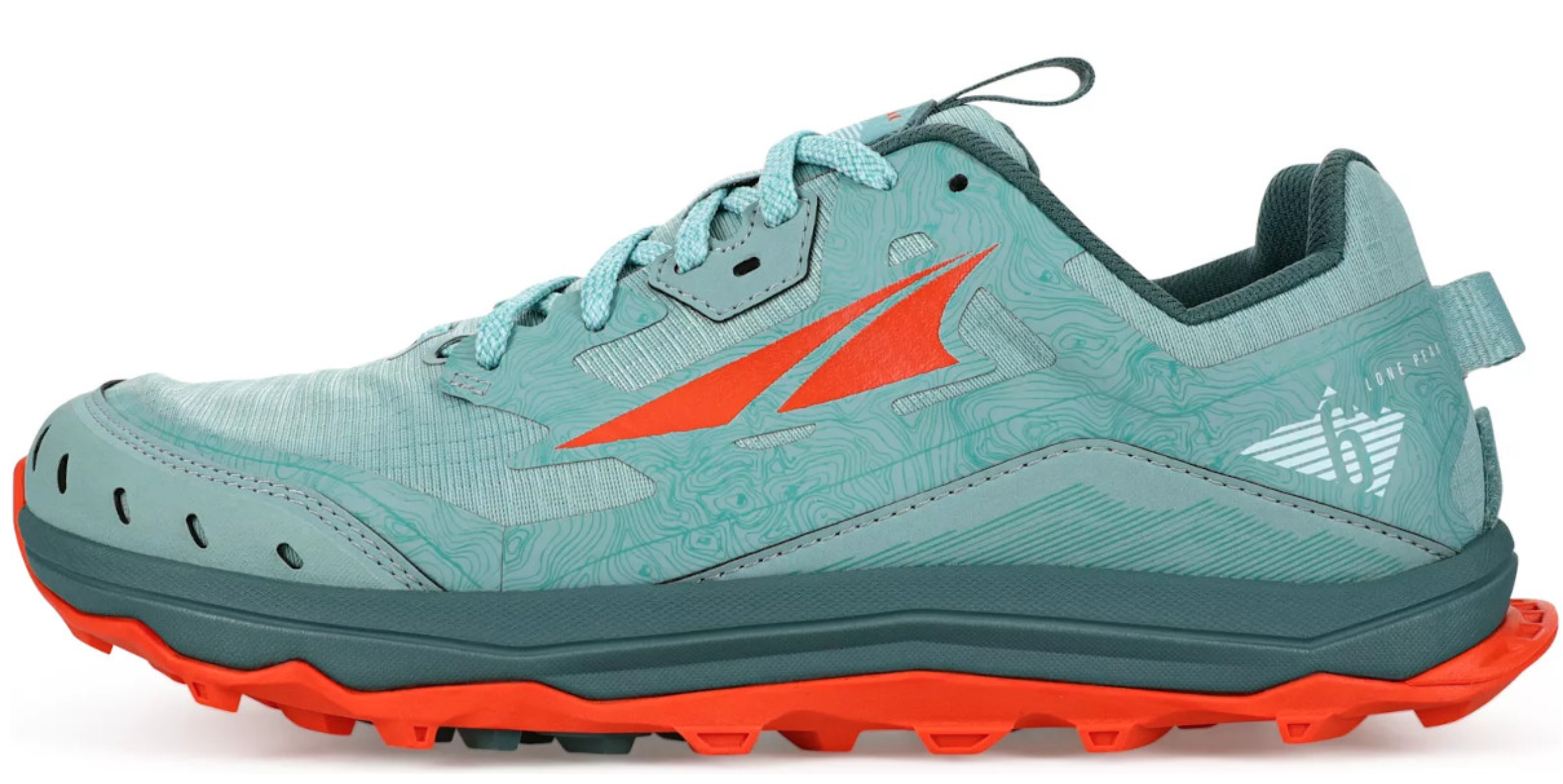 2) Inov-8 Trailfly
For really long (even multi-day) hikes, wear the Inov-8 Trailfly Ultra G 300 Max. The TRAILFLY outsole promises superior grip and the G-FLY foam with graphene absorbs shock even after several dozen kilometers. The foot inside the shoe sits firmly, reliably, yet comfortably. The materials used combine breathability, lightweight, and durability. Thanks to the wide construction, you will appreciate the ample toe room and space for the natural work of the transverse arch. The ADAPTER FLEX technology (10 mm deep notch in the middle part of the cushioning) radically increases the flexibility of the entire shoe and thus its ability to feel the terrain.
Other Inov-8 models suitable for mountain hikes: Inov-8 Parkclaw, Inov-8 Roclite (top sole, lower cushioning)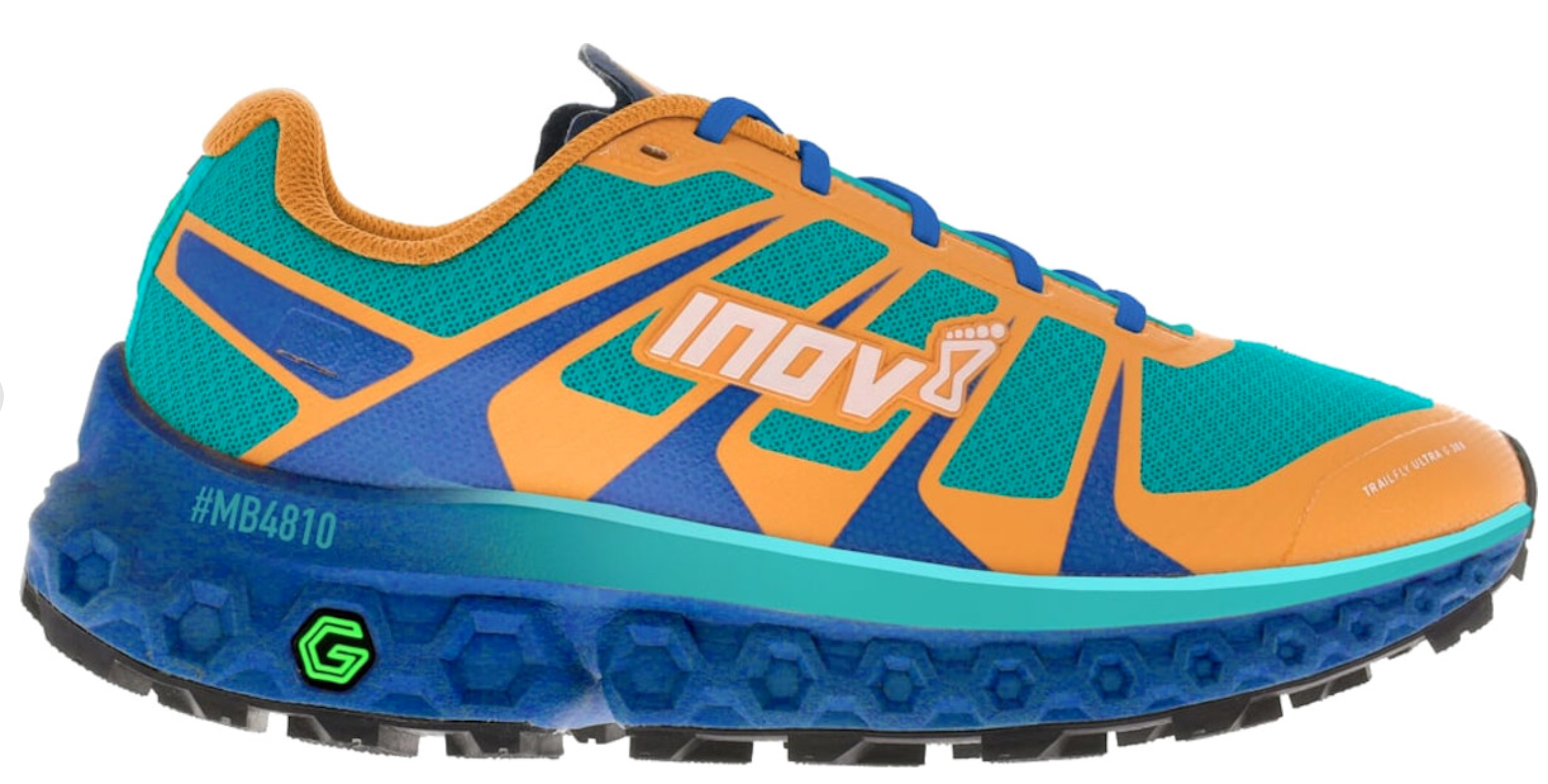 3) la Sportiva Akasha
For long distances in the mountains, la Sportiva Akasha II will help you get there. The Cushion Platform™ midsole ensures a soft tread and the Trail Rocker™ outsole ensures a smooth stride. The foot sits beautifully in the shoe, the heel is firmly placed and the ankle is provided with flexibility, promising maximum comfort and confidence on dry trails but also on muddy surfaces or rocks.
Other la Sportiva models suitable for mountain hiking: la Sportiva Tempesta GTX (for wet terrains and snow, the possibility of inte grating metal spikes for icy terrain - must be purchased separately), la Sportiva Akyra (for light hiking, also available in GTX version)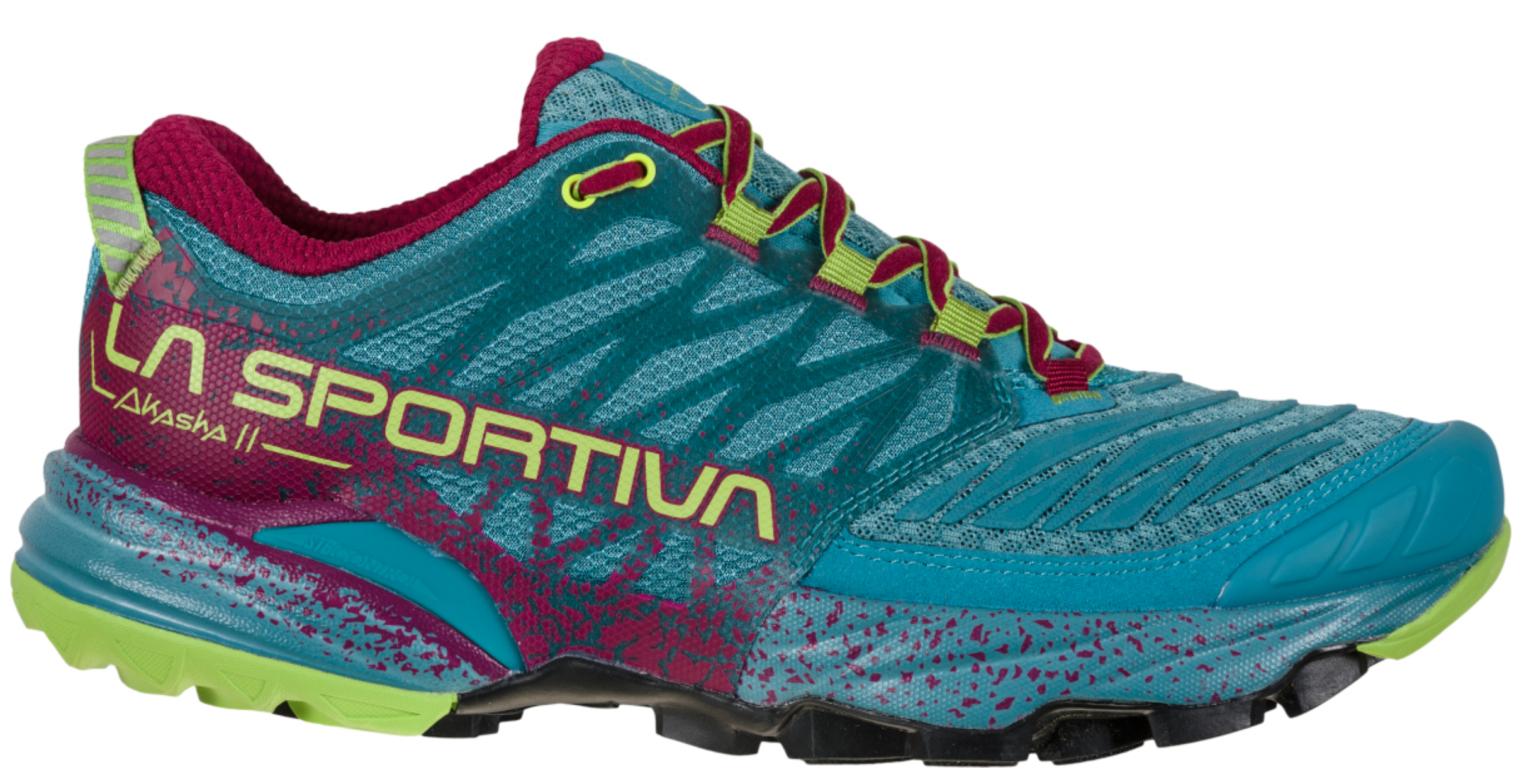 4) Asics Fuji Speed
Although this shoe has the word speed in its name, it is designed especially for longer distances, so you can wear it with a calm heart on a mountain hike. The ASICSGRIP™ outsole provides grip and the sophisticated Nexkin upper makes the shoe more resistant to abrasions from rocks and roots. So why the "speed" in the name? This model is inspired by Asics racing models and also features a Pebax plate and GUIDESOLE™ technology. These technologies support a smooth ascent and descent on the most challenging terrain.
Other Asics models suitable for mountain hiking: Asics Fuji Lite, Asics Gel-Trabuco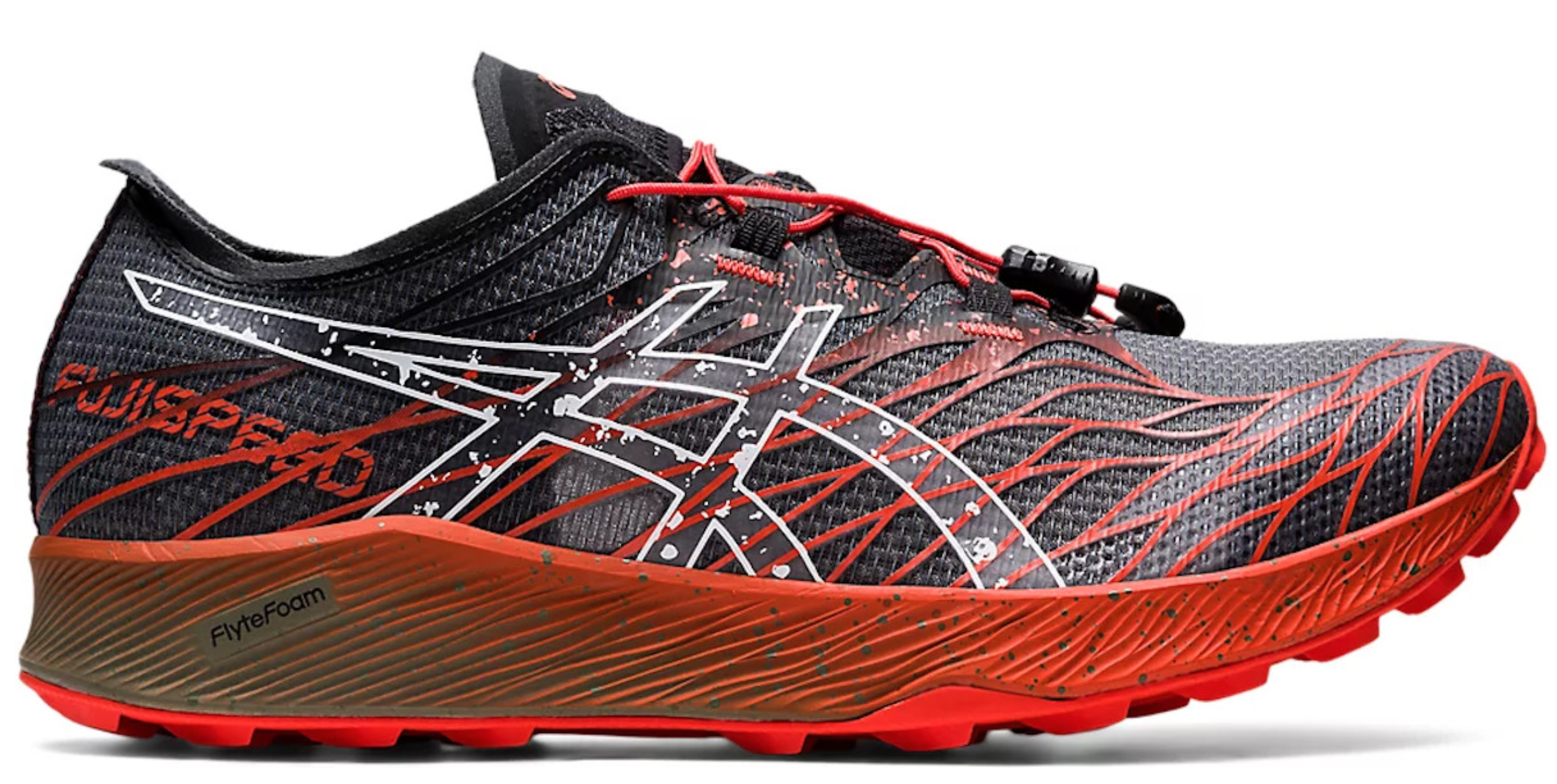 5) Nike ZoomX Zegama
Even Nike has several models that will hold you up on a mountain hike. One of the favourites is the Nike ZoomX Zegama. The Nike ZoomX outsole gives you confidence and stability whether you're going up a rocky hillside or descending steeply on a treacherously slippery trail. The durable upper along with a comfortable interior and cleverly placed lugs around the ankles protect against flying pebbles.
Other Nike models suitable for mountain hiking: Nike Pegasus Trail (also available in GTX version), Nike Air Zoom Terra Kiger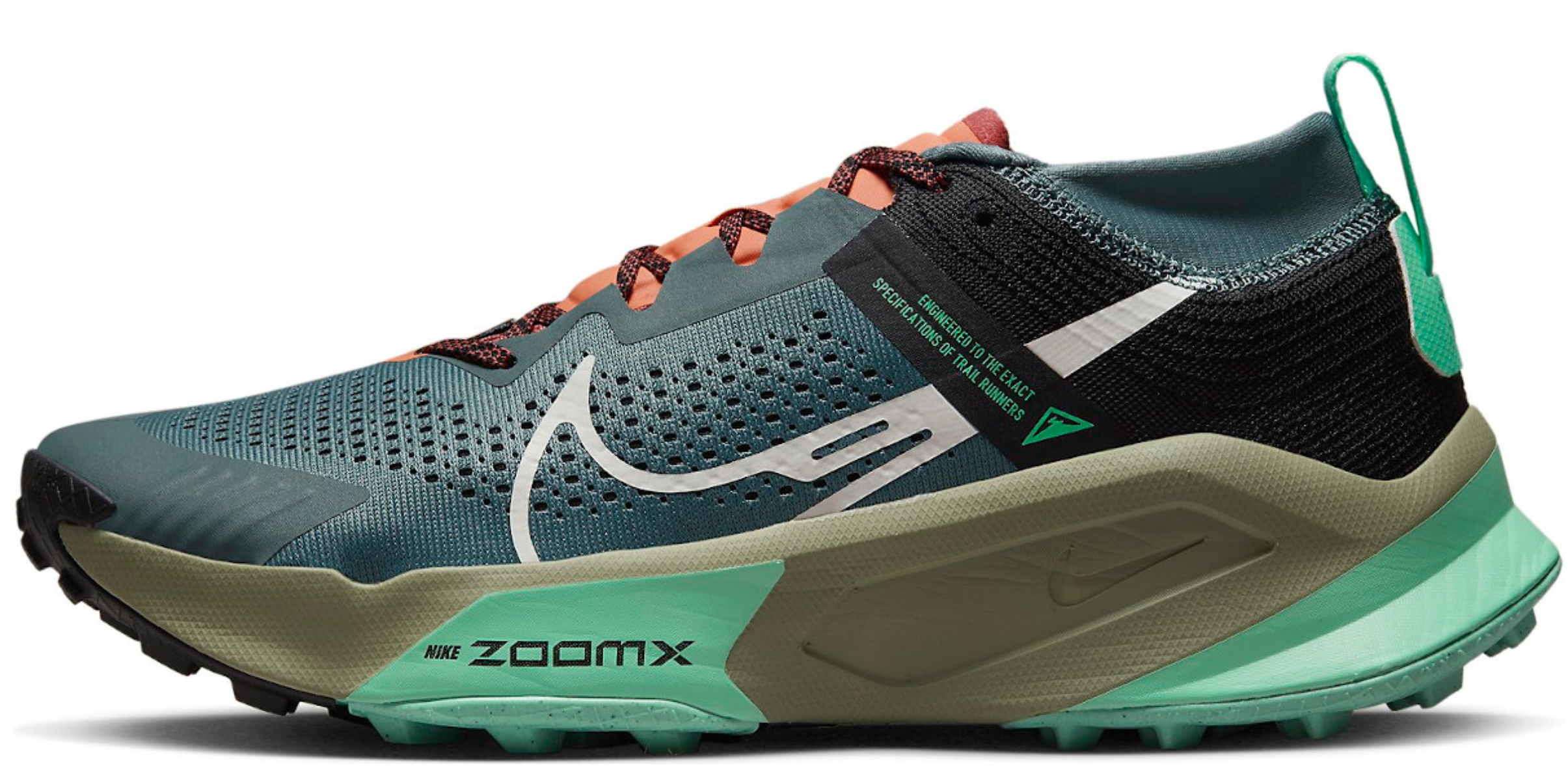 Practical tips for choosing the right shoe:
Appropriate size and width - Feet will swell during a long hike and need more space. Therefore, choose a shoe 1 - 2 sizes larger than you normally wear and a wider shoe if needed.
There is no universally right shoe - Remember that each person has different needs and preferences, so the term "the right shoe" will mean something else to everyone. Walk in them, try them on and observe how they feel.
Try on the shoe - Before you find YOUR shoe, we recommend trying on the chosen model to be sure.
Gear up for a mountain hike with Top4Running!