7 common questions about running in winter
The year is slowly coming to an end and once again the conditions outside are hardly ideal for running. How to keep going even into the winter months?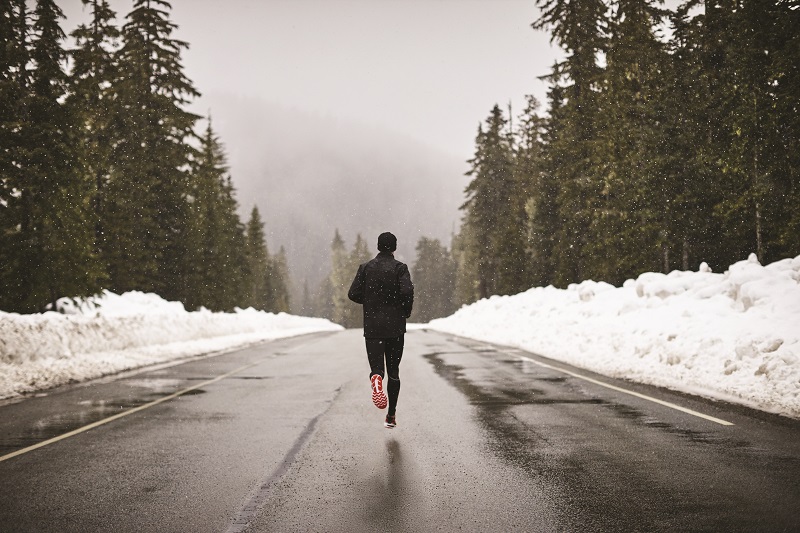 The temperatures right now are far from those in the summer, plus there's rain, drizzle, and later there'll be snow and it'll start getting dark in the afternoon. Lots of runners simply give up and the question is whether it's possible to run in winter and if it's even healthy. In this article, I try to answer your questions about running in winter and motivate you to keep your cool when the conditions aren't ideal and even enjoy running in autumn and winter.
1) How to survive low temperatures?
Proper apparel is essential during this season. The temperature oscillates around 10 °C during the day and drops to zero in the morning and evening, and in just a few weeks it will drop even lower. And then there's wind and rain. No, a T-shirt and shorts will no longer do. The basic rule says that you need several thin layers of apparel instead of a single thick layer. It will help you move freely, and if you get lucky and enjoy some winter sunshine, you can easily take one layer off. These days, I wear long tights, a compression basic layer, a long-sleeve T-shirt, and a vest or windbreaker. When you leave the house, it's important that you feel a bit cold in your running outfit, so later – when running – you'll warm up and feel comfortable. And remember that a temperature around 10 °C is ideal for running. Most world as well as personal records are broken at this temperature, as it's the best for your muscles and thus the whole body in terms of performance.

2) How to survive darkness?
The sun sets early in the afternoon, so for the next several months, most employed people can run by daylight only on weekends and holidays. Buy a headlamp so you can see where you step and avoid injuries. Being able to see is important, but it's even more important to be seen (and if you run on roads, it's now even required by law). Just spoil yourselves and go get a jacket or tights with some reflective elements. I've been wearing Nike apparel from the Flashpack collections for several years now and am happy to say that it makes you look good and may even save your life, like literally.

3) And how about my shoes – may I use the ones I wear in summer?
Recent winters have been rather dry, which is good for running. And when it's dry outside, you can easily put on your regular running shoes. However, you may get cold when wearing some ultra-breathable summer models. When it's sleeting, you'll surely appreciate some proper shoes, though. The paths in fields and woods turn to mud and puddles and even if you're a city runner, water can still get into your shoes. In that case, it's good to go with shoes by Salomon that are famous for their great qualities in unfavourable weather and demanding terrain. You can also choose from among the city-trail models that have lately become very popular. Below this article you'll find a lot of other shoes for winter running from brands that I recommend.

4) I have all the equipment, but where's my motivation?
Every runner sometimes faces a crisis and starts to negotiate with themselves whether to go for a run or not. Autumn and winter could be your enemies there, as you get home from work or school when it's already dark, you prepare a cup of tea or coffee, lie down on the couch, and it suddenly looks like a superhuman task to actually stand up and go. This is why it's always good to find a running buddy for winter who you can compete with to keep each other motivated. Also, it's hard to find excuses for not to run when you've already agreed to go with somebody else. And if you can't find a buddy to go with, why not try a runners club? Like the one I'm a member of! If you've ever joined our training sessions, you know that we go for a run in any weather and that you get to know a lot of excellent people to share your joy and troubles with.

5) Running with friends is fine, but what if I need long-term motivation?
If you really want to work hard during the entire winter, I suggest registering for some race that takes place in the spring, such as RunTour races that begin in April and you can get start fee discounts and other bonuses if you register before the end of the year. And if you want to get ready for these races properly, you have to run in winter as well. No excuses there! The last few hundred meters to the finish will mercilessly show you how hard you worked in winter.

6) And is it even healthy to run in winter?
That's a popular question you surely hear a lot. Mostly asked by people who ask the very same question in spring, summer, and, in fact, in any situation. Don't worry, though. This is the most important period when you just have to survive in order to run the whole winter unharmed. The temperature drops gradually and your body has a chance to acclimate. The worst thing is to forget all about running now and then make a New Year's resolution and go for a run on January 1 when it's -10 °C. Well, that's going to hurt. Make sure you wear proper apparel and shoes and start slowly and do speed training or stretching only once your body warms up. If you do catch flu in autumn, though, take it easy and get back to running more slowly than you would in summer.


7) How to enjoy running in winter?
The beginning of winter is the most beautiful time for running. At least for me. The temperature oscillates around a pleasant 10 °C and you meet fewer and fewer people on popular routes, so you can fully enjoy your runs. Nature is slowly falling asleep and offers some amazing scenery, so grab your phone or camera and take some pictures on your run. Also, try to come up with something unique and unforgettable, such as a new route or a crazy deer chase.
And if the weather isn't exactly favourable, that feeling when you get home, have a hot shower and a cup of tea, proud of having beaten the elements… that's certainly worth it!
Jan Přáda, former sprinter for AC Start Karlovy Vary, currently a half-marathon and marathon runner, and a doctor at the General University Hospital in Prague.